RECENT GIGS
| | | | |
| --- | --- | --- | --- |
| Date | Event / Link | Venue | City / Country |
| 06/10/2019 | London Guitar Night with Chris Woods, Aquilla Duo and Glenn Roth | The Coal House Cafe, Woodbury Wetlands, N16 5HQ | London, UK |
| 26/09/2019 | Court in Session with Will McNicol and Elliott Morris | The Old Court, SL4 3BL | Windsor, UK |
| 27/05/2019 | Small World Festival, Full Circle Stage | Headcorn | Kent, UK |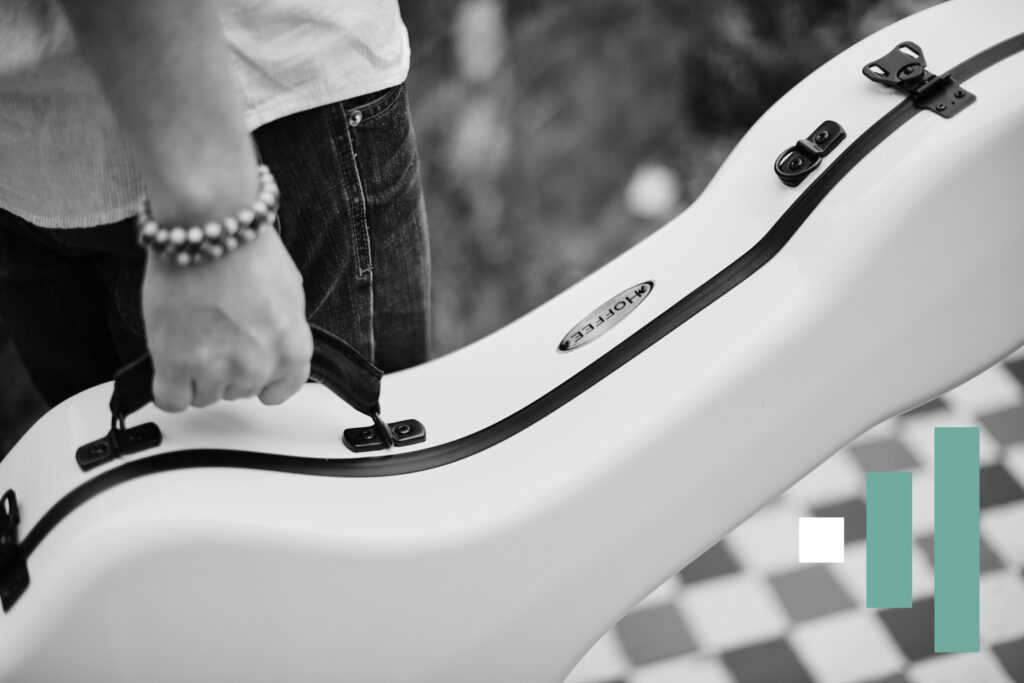 PAST PERFORMANCES
Dan has performed (both solo and in bands) across the UK and abroad. He has headlined his own solo shows; performed at festivals (including Tommy Emmanuel's TommyFest, several sets at Glastonbury, and regularly at Small World), workshops, weddings, charity events, street parties and house concerts; supported world-renowned artists (such as Martin Simpson, Danny Thompson and Trevor Gordon Hall); and shared bills with – among many others – Sam Carter, Will McNicol, Sean Taylor, Michael Watts, Amrit Sond, Chris Woods, Sohn/Trouble Over Tokyo, Charlie Lewis, The Jay Rayner Jazz Quartet, Elliott Morris, Nathan Ball, Jacqui Bastek, Jacob Szulecki, Richard Moss and … Ed Sheeran (admittedly when Ed was rather younger and less famous)!
Dan has played session guitar (including for Goldie's Metalheadz, J Majik, Infrared Recordings, Warner Brothers and Thames Television) and recorded or played live with musicians including:
Ron Wikso – drummer for Cher, Richie Sambora (Bon Jovi), Foreigner, David Lee Roth (Van Halen), The Storm, Gregg Rolie (Santana/Journey), Eddie Money, CCR (Creedence Clearwater Revisited), Player (featuring Ronn Moss & Peter Beckett),Randy Meisner (the Eagles), Denny Laine (Paul McCartney & Wings/The Moody Blues), Dave Amato (REO Speedwagon/Ted Nugent/Jimmy Barnes), Michael Monarch (Steppenwolf), Dave Meniketti (Y&T), George Burns, Sammy Davis Jr., Peggy Lee and many others
Kofi Kari Kari – percussion for Tom Jones, Phil Collins, Soul II Soul, Jamiroquai, Chaka Khan, Chris de Burgh, Michael Bolton, Vanessa Mae, Ricky Martin, Rebel MC, Westlife, Julio Iglesias, East 17, etc
Charlie Lewis – composer, pianist, electronic wizardary and more, on his own solo projects and with Reeps One, Matthew Whitehouse, Fawn, Danny Ladwa, Emma Ballantine, Uppercut Band, Solo Banton, Earl Sixteen, Marla Brown, Hollie Stephenson, Resonators, Lady Leshurr, Portico Quartet, SMB crew, Bad Science, Outerlectuals, Kenny Parrish (Ghost) and Paul Jones (MDS) of Life4Land
Tim Dahl – bassist in Child Abuse, Grid, Lydia Lunch Retrovirus, Pulverize The Sound and The Hub
Mark Knight – violin for Massive Attack, Tricks Upon Travellers, etc
Sam Chara – soprano singer-songwriter and cabaretiere
Clementine Lovell (Pop Up Opera) and Josephine Mortimer (Lovell/Mortimer, Brighton Vox, Folking Hippies)
Ilana Lorraine – vocals
Lee Nicklen – keys, programming for Kayotix, Baby Charles and music on more computer games than you can shake a stick at
Larrick Ebanks – vocals for Ruby Turner, Black Sabbath and many more
Elma Houghton – saxophone and clarinet solo and with Duncan Disorderly and the Scallywags, One Roots, The Spoken Herd' Hip Hop band, Dr Bluegrass and the Illbilly 8, Billy Rowan the Undercover Hippy, etc
Jamie Fagg – trombone for Bussetti, Funk Force Five and others
James Hume = drums for Nine Ashes, Jeremy Warmsley, Simon Mastrantone
… and many others.